3 minute screencast

A quick 3 minute introduction to Thymer for the iPhone!
---
Project list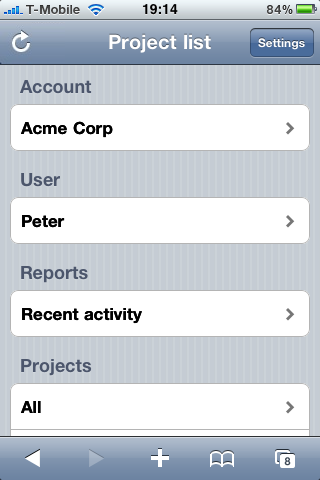 After you log in you get to the project tab. Here you can switch between accounts, select whose task list you want to view and navigate to the recent activity feed. At the very bottom you'll find a search box, which works just like search in the regular version of Thymer.
Task Details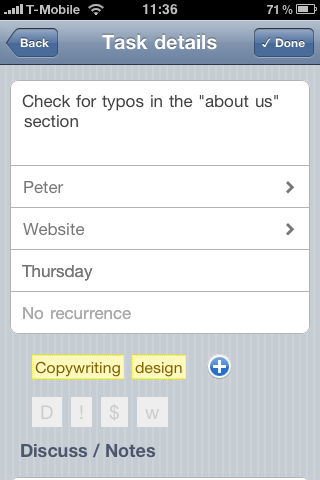 When you select a task you go to the task details tab. Here you can assign the task to somebody else, mark it complete, toggle flags (discuss/billable/important/waiting for) and add tags. Tags you've used before are recommended automatically to save you some typing. Add or remove tags with just a tap of your finger. At the bottom of the page you can discuss the task with your team members or add some notes for yourself.
Recent Activity Feed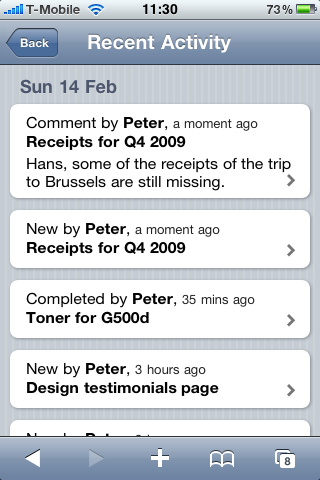 Want to keep track of your team on the road? That's where the Recent Activity Feed comes in. Here you can follow discussions, see which tasks have been completed and so on.
Offline Use (experimental)
When you're not connected to the internet (or if you're using an iPod touch) the web app will automatically start in offline mode. In Offline Mode you can access your tasks and projects (providing you've accessed them before) and check the recent activity feed. However, you cannot make changes to tasks, nor can you search for them.
How to get it
Go to http://m.thymer.com with your mobile browser and log in. Check the box "iPhone version" or "Android version" on the login page. For the best experience with the iPhone, add the app to your home screen after you've logged in. You can do this by clicking on the + icon on the bottom of the mobile Safari window. Then select "Add to Home Screen" to turn Thymer into a one-click app with support for offline use.