Hi everyone, time for some more feature news! Last week we reported about improved time tracking & hourly rates. With those features, it's possible to create reports that include – not only the spent time – but also the price, depending on the hourly rates. As the reports can now also be used for billing purposes, we're now announcing a new feature that makes it easier to extract this data and use it for invoicing.
Export of Reports to Excel

Reports can now be exported to Excel, using either the CSV (Comma Separated Values) or HTML format. For our European users that write numbers like "1.000,50", rather than "1,000.50", we added the option ;CSV, which stands for Semicolon Separated Values (as the comma is used to decimal values).
Although CSV is the more traditional way of importing data into Excel, the advantage of HTML is that all character sets are supported. This means you shouldn't have any problems with non-English languages.
To export, simply create or open a Report, click 'Export' and select the format. To import the file in Excel (or any other spreadsheet program), just click Open and select the file.
Note: in Business Teams, only people with the 'Billing' permission are allowed to Export reports.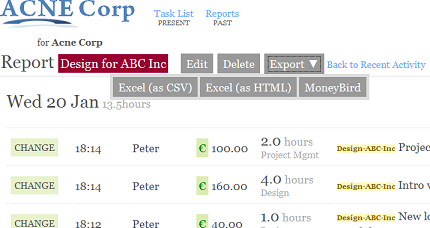 New Export menu

Excel HTML output. Simply Open in Excel to import.
Export of Reports to MoneyBird
This feature is mainly for our Dutch users, that are using MoneyBird. MoneyBird is a nice web application from another Dutch company, for easily organizing, managing and sending invoices. You can now directly convert your Thymer Report into a MoneyBird invoice, simply by clicking 'Export' and selecting the 'MoneyBird' option. You will be forwarded to MoneyBird where you can login and authorize Thymer to create a new invoice for you.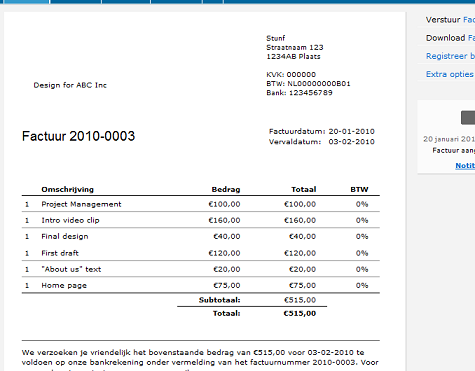 An invoice in MoneyBird, as exported by Thymer
Updated 'More..' Projects Dialog
We also refreshed the design of the More projects dialog. As before, Thymer displays as many projects on top as fit on your screen. All other projects go in the "More" dropdown. You can turn on or off the dropdown in Settings -> Lists & Menus. Here you can also change the order of your projects, so that the projects you access most are always shown on top. Depending on how many projects you have, and the resolution of your screen, the More projects dialog now shows your projects in one, two or three columns. We hope this gives a much better overview. It also completely colors the project titles. To make it easier to select a project from the dropdown menu, you can use the full width of a project row to click on it.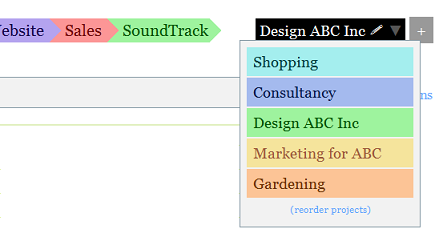 Just a few more projects. Shown in one column.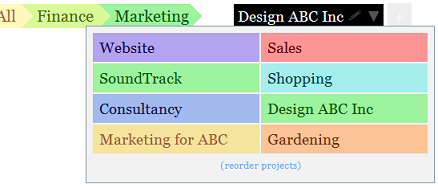 Some more projects, in two column mode. With three columns, you can easily choose between 50 or more projects.
New permissions
We received some feedback of users who wanted to use Thymer as a tool for issue management. Some users should be allowed to report new issues, but not change their status and edit them. We therefore added a new permission level to projects, between "View & Comment" and "Full Access" – "View, Comment & Add".
We hope you like the new additions!