We're glad to announce that Papyrs is also available in the Google Apps Marketplace! If you are a Google Apps user, you can now add Papyrs to your Google Apps domain directly from the marketplace.
With Papyrs you can easily build an intranet for your team using drag & drop, and use it to collaborate better with colleagues and clients. Easily create pages with rich notes, documents, images and much more to share all your information. Add custom online forms to collect data and process requests. It's all very easy to use, so there's no technical knowledge required!
Papyrs integrates seamlessly with Google Apps. After adding Papyrs you can: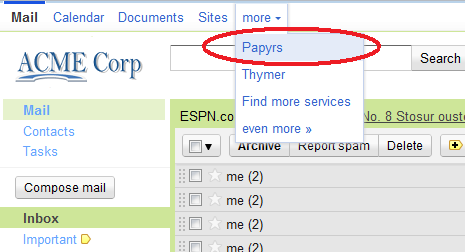 Start using Papyrs with your existing Google account (Single Sign On); no extra log in or account required!
Navigate between Papyrs and your other Google apps using Google's universal navigation.
Invite other users from your apps domain to start collaborating with Papyrs. Start sharing information and collecting data within minutes. (inviting users outside your domain is also supported!)
We're happy to add Papyrs to the large family of useful apps in the Marketplace, and hope it helps Google Apps users to be even more productive. Already added Papyrs to your domain? As always, we'd love to hear what you think: comments, suggestions and questions are always welcome!