It has been a while since our last blog post in June (!). So what have we been up to since then? First of all, we have been making a lot of changes 'behind the scenes'. We have upgraded our server architecture, so we hope Thymer feels even snappier. We have also added a lot of small improvements and fixes, such as:
– Time Tracking on the Mobile Version
– Improved print view
– Small improvements to the web version to work better with the iPad
– New tag selection screen when editing a task
– Pagination for the activity feed
– Improvements to email notifications
Today we're also releasing another feature we've been working on:
File Attachments
It's now possible to share files in your team by attaching files to comments on tasks. See the following screenshots for an overview:

Add attachments to comments in the discussion on tasks.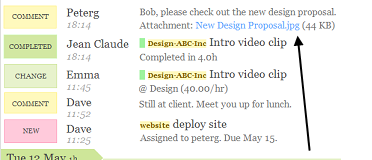 Attachments also show up in the recent activity feed.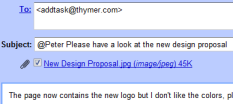 Just like creating new tasks and comments by sending an email to addtask@a.thymer.com, you can now also send file attachments directly to Thymer! Links to attachments will also show up in email notifications you receive from Thymer.

All existing accounts will receive some storage space for free:
Free accounts: 100MB
Professional: 512MB
Small Team: between 1 and 5 gigabyte
Business Team: between 5 and 15 gigabyte
You can find your storage quota and how much space you've used on the settings page.
Last, but not least…
Finally, we're also working on a new product! We're very excited about it and we're going to make an announcement soon!